Applications:
Industrial measuring transducer for humidity and temperature

Moisture transmitter for temperatures of up to 60°C for laboratory, climate control and drying technology, wood processing industry, food and animal feed industry, building industry, printing and paper industry, agriculture, biotechnology and pharmaceutical industry.
Article no.: 12609 LF-TD 60 air humidity, material moisture and temperature transmitter
Features:
In the manufacturing process, further processing, storage and transport, the exact determination of moisture and temperature becomes increasingly important. Only an accurate moisture monitoring can guarantee high product quality.
The LF-TD transmitters of Schaller measurement instrumentation, with its robust and easy to mount aluminium housing, are best suited for all applications in this field.
As Standard version, the moisture and temperature values are output via analogue 4-20mA power output. Alternatively, there can also be used other interfaces like for example RS232, Profinet, Modbus or USB.
The optionally available display showing the current moisture and temperature value is an add-on enlargening the application possibilities of the transmitter.
Two optional relay outputs enable the direct control of an alarm or air conditioning, for example. These switching outputs can be configurated freely (switch-points, hysteresis).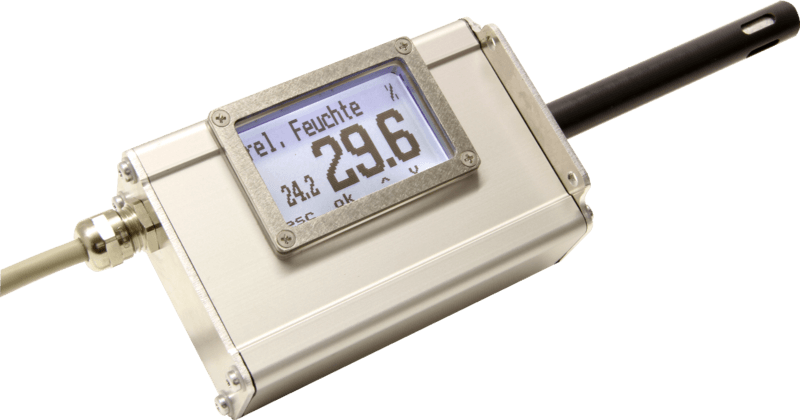 Technical drawing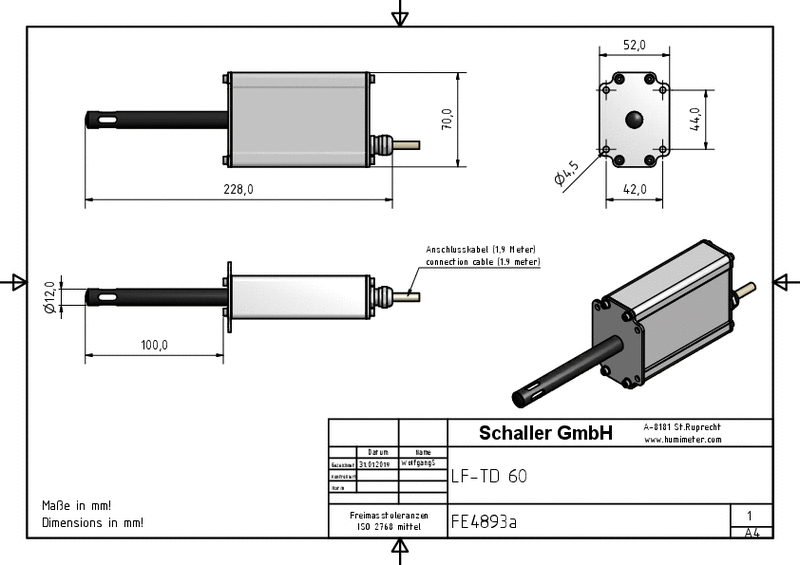 Technical data
| type | LF-TD60 |
| --- | --- |
| article no. | 12609 |
| Measuring range | |
| Relative air humidity | 0 to 100 % |
| Temperature | -20°C to +60°C |
| Output | |
| Relative air humidity | 4 - 20mA |
| Scaling air humidity | 0 to 100 % |
| Temperature | 4 - 20mA |
| Scaling temperature | -20°C to +60°C |
| burden | < 500 Ohm (UB 24V) |
| accuracy factory calibration | |
| Relative air humidity | 10 to 90%: ± 2,0 % |
| Temperature | +10 to +60°C: ± 0,3 °C |
| Operating temperature | |
| Sensor head | -20°C to +60°C |
| electronics | -20°C to +85°C |
| Power supply | |
| Voltage | 24 VDC (12 to 29VDC) |
| Current consumption approx. | approx. 18 mA 1) |
| Dimensions and other: | |
| Dimensions sensor head | Ø 12 x 100 mm |
| Material sensor head: | plastic |
| Sensor cap: | plastic with filter |
| Material electronics housing | anodised aluminium |
| Degree of protection electronics housing | IP 54 |
| Electric connection | connection cable 1,9 m length |